Full Name: LeBron James
Position: Forward
Height/Weight: 6-8 (2.03 m)/ 240 (108.4 kg)
Birthdate: December 30, 1984 (Akron, Ohio)
High School: St. Vincent–St. Mary HS (Akron, Ohio)
NBA DRAFT 2003
Selected in the first round (first overall) by the Cleveland Cavaliers

An early entry candidate for the 2003 NBA Draft. Consensus 2003National High School Player of the Year. Named PARADE High School BoysBasketball Player of the Year for the second consecutive season as asenior, becoming the first repeat winner in the 47-year history of theaward. Named USA Today boys' high school basketball Player of the Yearfollowing junior and senior seasons. Named Gatorade Player of the Yearas a junior and senior.
High School Career Highlights: Led St. Vincent-St. Mary (SVSM) to threestate championships in four seasons. Named Mr. Basketball for the stateof Ohio by AP for three straight seasons beginning with sophomore year.Named to USA Today All-USA First Team for three consecutive seasonsbeginning with sophomore season. Posted four-year high school careertotals of 2,657 points, 892 rebounds and 523 assists.

2003 Postseason All-Star Games: Named MVP of McDonald's High SchoolAll-American Game, the EA Sports Roundball Classic and the JordanCapital Classic. In the McDonald's Game, led East to 122-107 victorywith 27 points, seven rebounds and seven assists. In the RoundballClassic, led West to 120-119 victory with 28 points, six rebounds andfive assists, hitting game-winning jump shot with 25 seconds remaining.In the Capital Classic, scored 34 points and added 12 rebounds and sixassists as his Black team dropped a 107-102 decision to the SilverTeam.

Senior (2002-03): Led team to 25-1 record and mythical high schoolnational championship as selected by USA Today. The only loss was theforfeit of a game SVSM actually won. Scored 25 points and added 11rebounds as SVSM defeated Kettering Alter 40-36 in Columbus, Ohio, onMarch 22 to capture its third state title in four seasons. Averaged31.6 points, 9.6 rebounds, 4.6 assists and 3.4 steals. Scored 31 pointsand added 13 rebounds and six assists in win over Oak Hill Academy asSVSM assumed the top national ranking. Scored 52 points againstWestchester High School of Los Angeles, hitting 21-of-35 shots from thefield. Broke left (non-shooting) wrist in an AAU basketball game duringthe summer of 2002.

Junior (2001-02): Finished 23-4 and as runner-up for statechampionship. SVSM lost Division II state title to Roger Bacon ofCincinnati, 71-63. Averaged 29.0 points, 8.3 rebounds, 5.7 assists and3.3 steals. Broke index finger on left hand playing high schoolfootball prior to basketball season. Helped lead football team to statesemifinals.

Sophomore (2000-01): Led team to 26-1 record and Division III statetitle for second straight season. Defeated Miami East (Casstown) 63-53in championship game. Team finished fifth in USA Today Super 25rankings. Became first sophomore player ever chosen for USA TodayAll-USA First Team. Averaged 25.2 points, 7.2 rebounds, 5.8 assists and3.8 steals. Named First Team all-state in football as a wide receiver.

Freshman (1999-00): Led team to 27-0 record and Division III statetitle. Defeated Greenview (Jamestown) 73-55 in championship game.Tallied 25 points, nine rebounds and four assists in title game.Averaged 18 points and six rebounds for the season.

Strengths: Best attribute is his ability to make the correct pass withflair. Excellent strength and body control. His size and versatilityallow him to play multiple positions. Coaches and teammates praise hisunselfishness.

Personal: Loved to play high school football before giving it up toconcentrate on basketball. Shares December 30th birthday with TigerWoods. Considers Michael Jordan his role model and wears the number 23.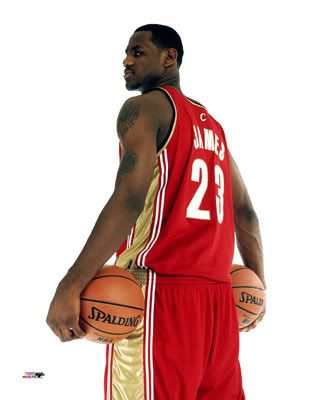 LeBron James Top10 Dunks